Saving lives by providing water filter to poor Guatemalan families
Our mission continues, and this time we are in Antigua, Guatemala. In this humanitarian adventure we are accompanied by the Founder of Water 4Life Ministry, Rudy Shaffer. Rudy, in addition to being one of the co-founders of Water For Life Charity, is also part of the volunteer team for this mission. Rudy and his team visited more than 5 communities and distributed more than 300 water filters and buckets to mothers living in small villages in the mountains around Antigua. In those villages there were many children lacking nutrition and over 700 infants and small children waking up each morning without safe, clean water to drink.
"This was my fifth trip in Guatemala and we always love the joy of helping others and of course the highlight of these trips is seeing all the smiles on the mothers' faces and all the hugs we get," Rudy said.
Guatemala safe water distributions
The first day they visited Vista Hermosa, Huehuetenango and San Miguel where they distributed 26 filters. A community so happy to see their children and families were going to have clean water.
Day 2: 50 filters – Iglesia Las Delicias, Taxisco, Santa Rosa
Day 3: 57 filters – Escuintla, Escuintla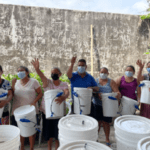 Day 4: 110 filters – San Cristobal El Alto, Sacatepéquez
Day 5: 60 filters – Santa Maria de Jesus, Sacatepéquez
Rudy also shared a very touching video. This video is of a Guatemalan mother with 8 children with, "no dad around" he said. The 2 older boys 16 and 18 work in the fields each day to earn money for food for the family. "We are hoping to get them back to school to get an education, so they have a chance to break out of the never-ending poverty cycle and help their siblings," their mother said. Water For Life Charity and Water 4 Life Ministry are helping to support this mother and her eight children over the next few years to help keep them fed and lift them out of their difficult circumstances.
This has undoubtedly been a very inspiring mission for us, changing the lives of these children and their families IS OUR MISSION and we are delighted to bring water filters to communities that need them. The smile of these children is our motivation to continue changing lives. Thanks to Water For Life Charity and Water 4Life Ministry for always thinking of others and for traveling the world giving clean water and a better lifestyle. Because everyone deserves clean water, it is our most basic human right.
See you on the next mission!