Water for Life – Water Strategy
For mission teams, the initial focus of Water for Life was to provide a lifesaving water filter to every person on every mission team going into third-world countries at no cost. If every teenager and adult were to place a single filter in their backpack, it would be possible to save literally tens of thousands of lives.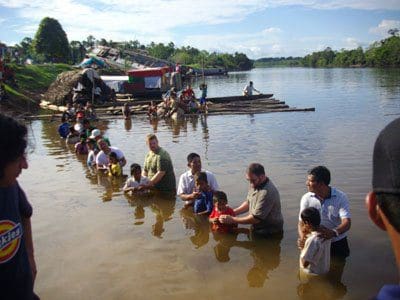 Championing a Child
Now, through your beautiful heart of giving, you will be part of changing the horrific statistic that a child dies in the world every 20 seconds and most are under the age of 5.
For missionaries, Water for Life Ministries is working to provide the water filter at no cost.
Currently, thousands of missionaries provide service in third-world countries through home churches in North America and beyond. In addition to sharing information about God, missionaries work to help the poor.
Regardless of the person, where he or she is from or the school attended, that individual can minister about Christ through Water for Life water filters.
Whether going to Uganda, India, Haiti, or some other country, clean drinking water is critical. Water is a key contributor to the alleviation of poverty through improved sanitation services; affordable food; and better resilience to disease, environmental degradation, and climate shocks. When women no longer have to walk miles to the nearest water source, which is often still contaminated, they can focus on education, small business opportunities, and helping their community.
By taking the Water for Life water filters into third-world countries, missionaries become a distribution point, offering families and entire villages hope through safe water. A single filter can provide one million gallons of clean water throughout its lifespan. Through the dedication of missionaries, lives of innocent people are saved every day.
Water for Life also partners with pastors who work on the ground in impoverished countries. There are thousands of pastors all over the world, and by distributing Sawyer water filters, the communities they serve have the chance to stay healthy and improve their lives. By providing these filters, adults and children alike where churches exist have or will have safe drinking water. Just imagine how lives will eventually change as trusted pastors get word out to villages and communities that clean drinking water is available.
There are also project partners associated with the Water for Life campaign. By creating close and trusted partnerships with credible and established mission organizations that have spent years perfecting technology and skills for a sustainable life, these water filters are of tremendous value. Project partners can introduce impoverished people to clean water while, at the same time, teaching them about the love of the Lord.
Water for Life is forming close partnerships with established and credible organizations that have spent years perfecting the skills and technology to provide sustainable, long lasting, safe drinking water in their specific country, such as well-drilling. What most of these need to help save more lives, is additional funding to expand their outreach and scope. So part of our strategy is to help already existing non-profits do even more to save lives. Partners that have been in their specific country and area for years, that know the language and customs of the people and have mastered the terrain and have knowledge of the water issues facing their communities.