A year and a half after Russia's invasion of Ukraine and one year after our fundraiser for water relief efforts, Water for Life Charity continues to provide safe drinking water for individuals and families in Ukraine.
Ukraine's Unique Water Crisis
Water is a fundamental resource that is often overlooked in the chaos of war.
Since Russia invaded Ukraine in February 2022, the UN estimates that roughly 16 million Ukranians need water, sanitation and hygiene assistance. Damaged water and power infrastructure continue to make essential needs and resources limited at best and unattainable at worst.
Compromised water systems have caused sewage and potable water to mix, leading to contamination and higher risks of waterborne diseases, including cholera. These illnesses often affect children the most, leaving the most vulnerable at the highest risk.
"Young children who live in conflict zones are 20 times more likely to die from diarrheal diseases linked to unsafe water than from direct violence, as a result of war," shared UNICEF Ukraine Representative Murat Sahin at the beginning of the conflict in 2022. "Their access to water, wherever they are, must not be jeopardized as a result of war – for children, it is a matter of life and death."
Water issues are currently amplified by the Kakhovka dam damage in southern Ukraine, severed pipelines, power outages, and damaged pumping stations.
Water for Life Charity Actions & Impact
On June 27, 2022 Water for Life Charity held a fundraiser to take the first step in creating a water solution and providing safe drinking water to the people of Ukraine. The Water for Life Charity fundraiser gala raised over $80,000 to help provide clean water solutions. With these initial and ongoing donations Water for Life Charity has distributed the following supplies into the hands of Ukrainian individuals and families:
1,500 water filters, producing up to 120 gallons of safe drinking water every day
1,500 water collection buckets
30 mobile shelters
1 truckload of winter clothing
1 vehicle to transport supplies
We still see the life changing effects of water filters and resources provided by donor support, those same filters continuing to produce potable water today and for years to come.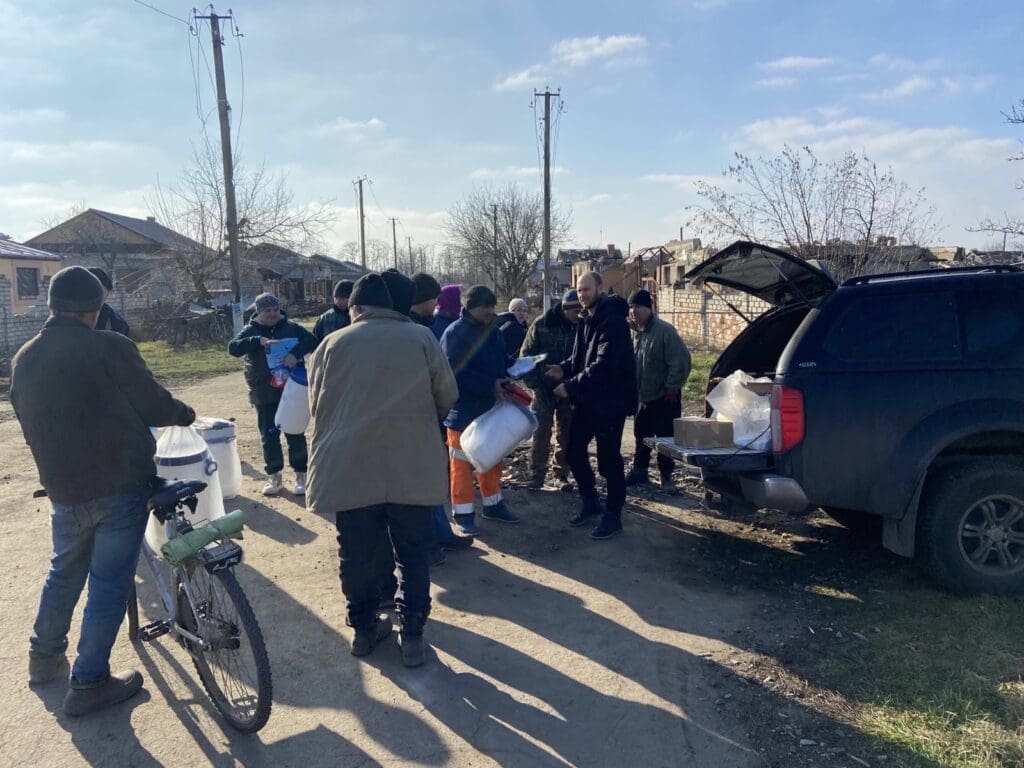 Water for Life Charity has worked with its partner teams in Ukraine to spread hope and life through its portable water filtration systems. Unique to Water for Life Charity, these easily transportable filters allow individuals and families to make compromised water sources safe to drink even in the most remote and devastated areas. These filters start the solution where it is needed most.
Water for Life Charity works closely with Backroads Foundation to securely transport, distribute supplies and educate individuals on proper and effective water filter use.
"What sets Water for Life Charity apart is its persistence and longevity in supporting others in need, when other groups have moved on. They deliver their services, build meaningful relationships, and foster a sense of belonging with Backroads Foundation. They have enabled us to reach new heights in helping Ukrainians in need."
ALT: "Right now Eastern Ukraine is mostly elderly people who were unable to relocate. In these areas they have to walk miles to find clean drinking water, and that is why water filters are so impactful. They provide long-term clean water solutions for people who literally can't access it any other way."
-Solomon Carter Smith, President of Backroads Foundation
We have also supplied the Ukrainian-based nonprofit forPEACE with over 360 pounds of resources including bandages, mosquito repellant, solar devices, portable shower kits, and over 200 water filters for people in the Eastern region.
Campaign Continued: What you can do
As the conflict carries on, so do our efforts to provide aid and safe drinking water to everyone in need. Every donation, fundraiser and partnership counts.
Please donate a one-time or monthly contribution to help solve Ukraine's water crisis. With a $50 donation, ten people receive a filter system to give them safe water for three to five years. With your ongoing support, we can continue to supply Ukrainians with clean, safe drinking water through our portable water filters.
If you or your organization would rather fundraise or partner with us to meet this critical need, please reach out to our project organizers.
The war in Ukraine and its resulting water crisis has created a daunting challenge, but creating access to safe drinking water delivers hope with a solution. Together with your support and donations, we can solve Ukraine's –and the world's– water crisis, one filter at a time.